All Entries will be Completed Online for the 2021 Fair.
Entries are open NOW and close at 10:00 PM on July 11th!
ATTENTION MARKET EXHIBITORS- PLEASE UPLOAD A PICTURE OF YOUR MARKET ANIMAL TO SHOWORKS! Directions can be found HERE!
Latest Edition of The 2021 Ramona Junior Fair Premium Book is HERE!
(All changes that were made after original posting are highlighed in Yellow!)
Please contact Curtis Martineau, Livestock Superintendent at 619-559-0798
for Market Ear Tags BEFORE completing entries!
SUBMIT CAMPING APPLICATIONS BY THURSDAY, JULY 22!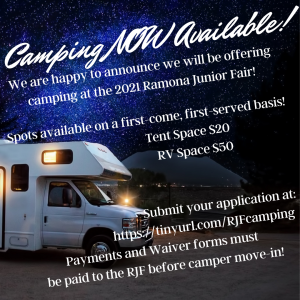 RPRA Liability Waiver Form– THIS FORM MUST BE COMPLETED & UPLOADED WITH CAMPING APPLICATION OR SUBMITTED WITH PAYMENT TO RJF BEFORE CAMPING IS ALLOWED!

State Rules and Guidelines
Official 4-H, Grange, FFA and California Agriculture Youth Agreement
California State Fairs Rules (Guidelines for Ramona Junior Fair)